Right, I've seen quite a few posts about Hera clearing and all, but they're mostly touching on Resolve teams.
Now, don't get me wrong, resolve teams are great and all. But with the introduction of Odin, resolve teams are pretty horrible for clearing Hera.
Let us look at the pros and cons of a Resolve team.
Pros
- Easy to set up (esp if you're playing in Japan and are using the rainbow crystal team)
- Definite egg get as long as you do not slip up at the boss stages
Cons
- Inconsistent, requires luck for the first stage (either that or spend stones)
- Requires the grinding of demons and chimeras, which are quite honestly useless outside of resolve teams (matchstick plus > demons, chimeras are generally replaced by mecha dragons or resist dragons)
- Slip up once during the boss stages (esp Hera) and you're dead
- Requires Orochi and/or Amaterasu/high recovery Siren if your team HP is high
Now on the other hand, with a well set-up Odin/Resist team, clearing Hera is very very consistent. Moreover, the monsters you use will be useful for all stages of the game.
First, the set up.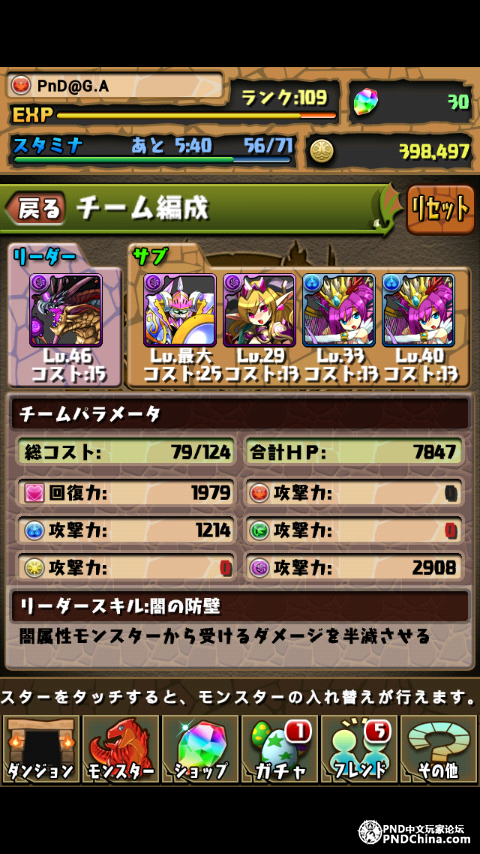 Leaders: Odin + Resist Dragon/Abyss Neptune
Team members: Siren x2, Rainbow Keeper, Poison (Lilith or Neptune).
If you are using Abyss Neptune as your leader, feel free to replace the poison monster with any resist dragon.
Additional requirements:
1.)
Total team HP of 8220 and above
(even better if you can push the attacks of your team, esp the non-Siren monsters, to as high as you can)
2.) Both Sirens are at max skill level
And now for the pros and cons.
Pros
- All monsters required are monsters that you should have in the long run (you have no excuse not to have a dark resist dragon, dual max-skilled Sirens and a poison monster when you are late into the game), meaning you'll not be wasting valuable exp raising Devils and Chimeras
- Very consistent team, no luck required for the first stage. 0 stones required if you play it well.
- Can slip up against Hera once and still survive. Important for long matches where you'll occasionally fall to the lapse in your concentration
- Monsters are readily available. You only need a resist dragon and an Odin friend. No need for low leveled Orochis, no need for high leveled Amaterasu/Siren. The Odin can even be at the first stage and you'll still do fine.
Cons
- You're required to heal manually every single turn at Hera, but double Siren mitigates the issue (On the plus side, Hera deals less than 2k damage at full HP thanks to Odin and resist)
Now for the roles of the members in the team:
Sirens - provides steady supply of heart orbs. Nothing much to say.
Resist Dragon - Provides the AOE nuke necessary to decrease monster's health so that you can get the enemies down to 1 asap.
Odin - High leveled Odin's Gungnir is excellent to pick 1 enemy off
Rainbow Keeper - 3 turns 50% should be enough for any slip-up during the boss stages (more for Hera and Venus actually).
Poison monster - essential for Neptune, and great for dropping the HP of the last remaining monster while you store your gems.
Stage 1
The toughest part of the stage, but with Odin, it should be less of a problem. Even at the lowest HP required for this strategy, you should be able to take in two consecutive hits of any combination as long as you have max HP. Focus your firepower on a single monster (the tiny devils if there is any) and chain as much combos as you can. If not, aim for those where your attacks can deal double damage.
Keep one monster and start to charge up your skills and orbs. Make sure all of your skills are up and prepare some of your orbs (usually dark) so that you can at least do an AOE attack when you enter stage two. Feel free to kill off the monster with poison.
Stage 2 to 4
First thing you should do when you enter is to release the blast of your Resist Dragon. Next, check to see if there are any monsters who'll gradually attack on the same turn, and pick them off with Odin's Gungnir. Then do your AOE attack if there are more than 2 monsters left with high HP and kill them off till you're left with 1. Rinse and repeat.
Stage 5 to 10
Don't get careless and heal every turn. If you get careless, there's still the Rainbow Keeper to save your ass for three turns. The tip is to clear as many gems/combos as you can so that you can get the recovery gems to drop constantly.
Now for those who have Amaterasu (495+ rec) or high recovery Siren/Angel/Dryad (824+ rec) and beefy monsters, you can skip the resist dragon altogether and go for the more brainless Odin setup. Only thing you need this time is 16500HP, monster with good AOE nuke (recommended but not necessary) and a poison monster. One example is as shown below.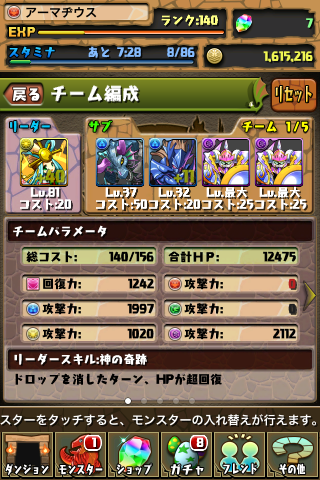 Amaterasu will do the necessary heal per turn, so it's even safer than the Resist/Odin setup.
All in all, I'll recommend everyone to just skip the whole idea for using a resolve team for Hera and aim for the team I've mentioned above instead. You won't waste any time leveling the underwhelming Devils or Chimeras. Instead, you're building a team of practical monsters which will be useful for the later play as well.